Aloha from the Blog Patrol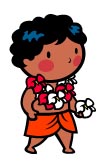 While in Hawaii I wasn't able to do as much patrolling as I would have liked. What I have noticed, however, is that there have been more people patrolling the BP. That is the thing about being in a position of power, everyone is watching to see if you will fall. We are not silly like Martha Stewart doing insider trading, nor are we like Donald Trump over-leveraging our assets and almost going bankrupt.
Fortunately, the Blog Patrol is like a cat and when we fall - we always land on our feet.
I am thinking about getting some Blog Patrol T-Shirts and even having some Blog Patrol contests that involve actual prizes. However, the Blog Patrol is very busy patrolling and so we have very little time implement many of our wonderful ideas.
On a side note: Has anyone seen any great blogs lately? Perhaps one that you would like to nominate as a "Blog Star"? If so, please drop us a line in the comments section of this post.
Just Blog it!